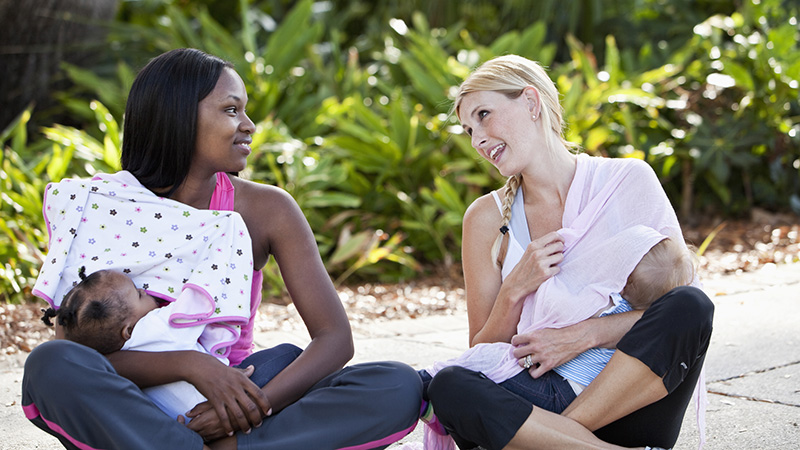 Birth and Beyond Support - FREE GROUPS
Created to give moms a place to make new friends, get support and discuss the joys and challenges of motherhood. Our Birth and Beyond Education Center has blankets, swings, play mats and toys for baby and older siblings to enjoy while mom participates in the group discussion. Moms will also have access to our Lending Library, full of popular and highly recommended books and videos to checkout. Groups meet weekly throughout the year. No registration required.
Free Breastfeeding Support Group
Join our free breastfeeding support group led by a Certified Lactation Educator. We will address your concerns and touch on a number of pertinent topics including how to avoid common challenges, going back to work, and more! Nursing chairs and pillows are available.
Moms will also have the opportunity to participate in our BEST (Breastfeeding Education and Support Tribe) Beads program, in which they build their own personalized teething necklace as they progress through the breastfeeding journey.
Every month moms are encouraged to reflect upon their breastfeeding experience and choose a bead that represents their success. Leave this group feeling supported and more confident! Healthy older siblings are always welcome. Come join us and find your village of support! For questions about the Birth and Beyond Support Group, please email birthandbeyond@llu.edu.
No registration required.
Class Information
In-person: Monday
9:30 - 11:30 a.m.
Address:
11215 Mountain View Ave.
Suite 179
Loma Linda, CA 92354
Zoom: Wednesdays and Fridays (Except Holidays)
9:30 - 11:30 a.m.
Free