Whether you choose a natural birth or medicine for pain management, our board-certified obstetricians and anesthesiologists provide all the support you need for a safe labor and delivery and are available 24/7.
With more than 3,200 babies delivered each year, our center has the experience you can count on and a family-centered, baby-first approach you can trust.
Why Choose Us For Your Baby's Delivery
We're recognized by Blue Cross Blue Shield as being among the best in the state for maternity care
Our c-section delivery rate for first-time moms is the lowest in California at 17%
When we induce delivery, we have an 85% success rate
We were named the first Baby Friendly hospital in the country for encouraging breastfeeding for all newborns, giving them a healthy start
We support and encourage breastfeeding, which provides many health benefits for baby and mom that formula does not
We offer educational classes and physical fitness programs to prepare you for the birth of your baby.
The Birthing Process
We know the birth of your baby is one of life's precious miracles. Our nine private labor, delivery and recovery suites are designed to give you the birth experience you want.
Birthing beds allow for many delivery positions
Your coach and up to three other people can be present to support you during the birth
Our expert childbirth doctors and nurses ensure compassionate care for a positive and safe delivery
Anesthesiologists are always available to provide epidural pain medicine
If a C-section delivery becomes necessary, experienced doctors will deliver your baby in one of our three surgical suites
The Sacred Hour
The first hour after your baby is born is the perfect time to begin bonding. Skin-to-skin contact helps your baby stay warm, relax and breathe easier. This quiet time together lets you get to know your baby and promotes breastfeeding.
What to Expect During the Sacred Hour
In a typical vaginal delivery, the Sacred Hour will begin directly after birth. Your chest will be bare and baby will be placed on your tummy, naked and not wrapped. You and your baby will be covered with a blanket with baby's head out. If there is a medical reason that keeps you from immediate skin to skin, it may be started as soon as possible.
In a planned or non-emergent cesarean section you will be offered the option of having the skin to skin and bonding experience in the operating room. After a brief assessment, if both you and the baby are doing well, the baby will be placed on your chest with the assistance of a nurse. As your cesarean section concludes, your baby will be taken to the nursery but will rejoin you as soon as possible.
Family Participation
The first hour after birth is a special time when the new baby and parents become a family. You can honor and support this by:
Leaving mother and baby skin to skin (uninterrupted) until after the first breastfeeding
Keep the room quiet and calm so baby can hear mostly the parent's voices
Enjoy watching baby's amazing, natural, and instinctive feeding behaviors
Breastfeeding
Breastfeeding provides healthy nutrients your baby needs and prevents infection. We support our new mothers in exclusive breastfeeding, from before baby is born, after birth and at home.
The American Academy of Pediatrics strongly recommends breastfeeding for at least 6 months because of the many health benefits it provides, including:
Nutrients more easily used by baby
Nutrients needed for optimum brain and nervous system growth
Eyes that work better, thanks to the fats in breastmilk
Fewer digestive lung and ear infections
Lower risks for many conditions, including SIDS, asthma and allergies
Less diarrhea
Enhanced mom and baby bonding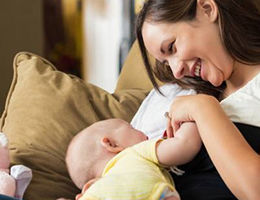 Breastfeeding provides healthy nutrients your baby needs and prevents infection.
Learn More