Pediatric residents have a wide variety of experiences day-to-day, depending on their clinical setting. These can include hands-on learning, whole patient care and teaching medical students and fellow residents. 
Throughout it all, you have the support of your peers and attending physicians in clinical decision-making and active participation in patient care.
A Typical Day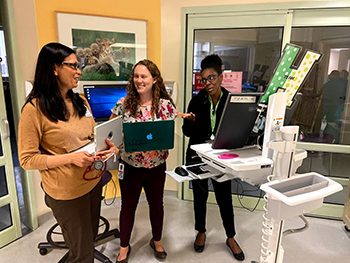 Inpatient Ward Schedule: 
6 a.m. Handoff from night team
8 a.m. (sometimes 8:30 a.m.) Morning didactics
9 a.m. Structured Interdisciplinary Bedside Rounds (SIBR)
12 p.m. Noon conference
1 p.m. - 6 p.m. Patient care, admissions, small lectures from attendings or senior residents
In the outpatient setting at the SAC Health System, residents have structured didactic time in the morning with evidence-based teaching provided by senior residents. Noon conferences are streamed to the clinic. 
During the rest of the day, you'll have the opportunity to:
See patients
Establish continuity
Manage clinic workflow while working with our LVNs and MAs
Follow up on parent calls and requests for medication refills
Additionally, house staff members also have the opportunity to participate in SAC Quality Improvement (QI) projects. These aim to improve efficiency and ensure evidence-based outpatient pediatric practice.
Resident Life
The Loma Linda University Pediatric Residency Program endorses a balance between your clinical responsibilities and your personal wellness. Our program and wellness chair residents provide various activities to foster a sense of community and camaraderie between residents. Residents also rely on each other for support and friendship and, in doing so, create a community that feels more like family.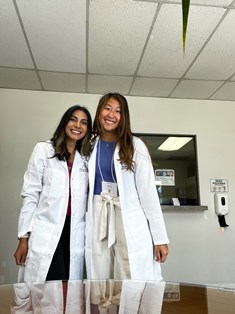 ​
Support Resources
Chief wellness residents are selected by their peers to serve on the Graduate Medical Education (GME) Wellness Committee. In serving, they develop wellness initiatives and resources while promoting a sense of community among residents. Wellness chairs also have their ear to the ground in assessing resident morale and offering solutions for improvement. 
Wellness resources available to all Loma Linda residents include: 
Concierge access to medical appointments
Quarterly wellness events organized by the Resident Wellness Committee
Confidential appointments readily available with mental health professionals
Free access to the Drayson Center, a 100,000 square foot state-of-the-art sport and wellness facility (currently closed due to COVID-19)
Our pediatric residency also offers its own programs to ensure resident wellness, including: 
"Big Sib" residents for every incoming intern
Chief resident mentor for every intern
Faculty mentor for every resident in the program
Monthly "Thankful Thursday" noon conferences
Intramural sports teams such as soccer, basketball and softball
Annual residency retreat, which includes 36 hours of protected off-campus time
Annual class-specific retreats, which are protected weekends for each class to encourage bonding and collegiality