Our residents — supported by expert faculty — develop their clinical decision-making skills while serving a large population of patients. Our evidence-based didactics support your clinical education and prepare you for a career as a lifelong learner. Didactics are derived from:
Current guidelines
Review articles
Published reports
Despite busy clinical duties, you're given "protected time" during didactics to focus and learn about the topic at hand. You also participate in giving didactics to learn about different teaching styles for a wide variety of learners.
Curriculum Highlights
Your faculty mentor and experienced resident mentor help guide your education.
Integrated wellness activities help you manage your workload healthily.
Choose an elective in your field of interest and focus on preparing for your career during each year of residency.
Provide much-needed support to underserved youth in our community.
Experience another culture while developing useful skills on international rotations.
Learn how to manage critically ill patients transported via ambulance and helicopter.
Transport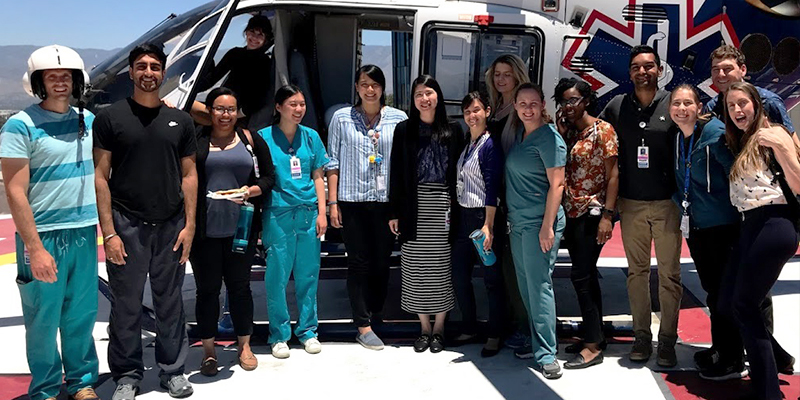 Due to our large catchment area, senior residents often take "Transport" call during PICU or consult rotations. You will lead a multidisciplinary team to transport critically ill patients from community hospitals via ambulance or helicopter for admission to our PICU or ward floors. Transport call provides you varied learning opportunities:
View community hospital resources and the management of ill patients
Triage a patient's needs
Foster independence in managing critically ill patients in a multidisciplinary team (with RT and RN support)
International Rotations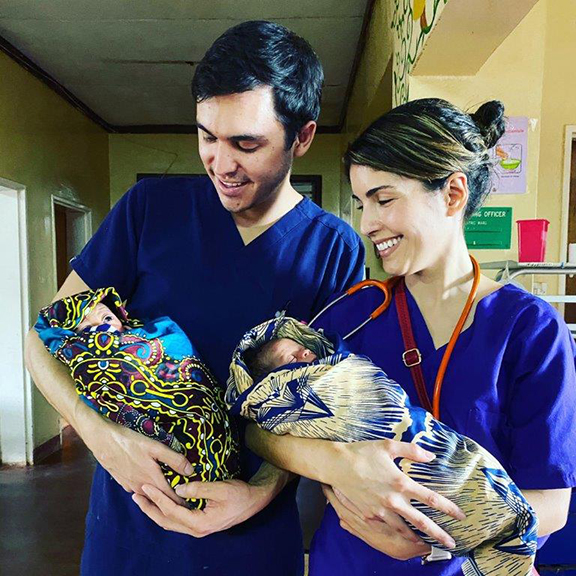 Our third year residents attended the delivery of twins in Malamulo Adventist Hospital in Malawi
Senior residents travel to Loma Linda University Health's international partner sites in Malawi and Guam. There, you'll use your unique skills and talents to help patients in resource-poor countries. Residents are not only exposed to another culture, but also gain knowledge of different health systems and unique diseases. Further, you'll learn to provide care with limited resources available. 
Many residents partake in these international rotations each year and return with enriched clinical skills and a new perspective on their clinical practice.
OK Kids/Advocacy
The OK Kids rotation provides interns the opportunity to:
Lecture at schools and community centers.
Participate in outreach projects with homeless children.
Work at clinics for underserved youth. 
During the summer months, you'll participate in Operation Fit, a week-long camp for our young patients and families interested in learning about healthy eating habits and active living. Interested residents also have the opportunity to travel with a team of physicians to Sacramento for pediatric advocacy, and to participate in important discussions about the future of pediatrics.
Mentorship
We understand that the transition from medical school to residency can often be challenging. Interns are paired with chief residents and third year seniors to smooth this progression. Resident mentors serve as resources to answer any questions, provide assistance with navigating new rotations. Mentors also act as a social conduit to establish collegiality between residents. 
Additionally, you'll be paired with a faculty mentor to facilitate professional development. Faculty mentors serve as teaching resources and provide role models for our fledgling pediatricians.
PGY - 1
Rotations during intern year serve to establish a solid clinical base for our residents. You will primarily:
Rotate through our four ward teams.
Gain exposure to our outpatient clinic (SAC) via housestaff months.
Rotate through the ER and Newborn Nursery.
You'll also participate in behavioral and developmental pediatrics, OK Kids/Advocacy, and have the ability to choose an elective in your field of interest.
PGY - 2
During the PGY-2 and PGY-3 years, we offer training that is geared specifically for your future career path, called Flex months. These months allow you to choose more outpatient and inpatient experiences. Inpatient rotations will include our pediatric and neonatal intensive care units, as well as subspecialty consults and electives.
PGY - 3
International rotations are highly supported during PGY-3 at multiple sites worldwide, including Malawi and Guam. In addition to solidifying your clinical knowledge, there are multiple events to foster your professional development and contribute towards achieving your career goals, including:
Applying to fellowship.
Participating in job searches.
Didactics and Educational Activities
Residents learn in a wide variety of formats — from clinical exposure to more structured conferences. 
Conferences are "protected time" from clinical duties in order to facilitate your learning. Examples of such conferences include: 
Morning Report: Case-based presentation with pertinent learning points presented by inpatient ward teams. In the clinic, morning report consists of evidence-based teaching by a senior resident answering a clinical question pertinent to outpatient pediatrics.
Noon conference: Faculty give presentations on their areas of expertise, covering nearly the entirety of the ABP Content specifications over an 18 month cycle. Lectures will be interactive, and include monthly Mock Codes as well.
Journal Club: Monthly series highlighting key components of evidence-based medicine relevant to subspecialty and general pediatrics.
Super Tuesday: Resident-led conferences where interesting cases are presented, leading to a dynamic discussion between residents and attending physicians. 
Grand Rounds: Presentations for the entire children's hospital, led by invited speakers, attending physicians, fellows or senior residents. Presentations cover varied topics, such as ground-breaking research to an in-depth case discussion. 
Wellness activities, such as Thankful Thursdays, are integrated into the noon conference schedule. You have the opportunity to provide feedback and ideas for program improvement during monthly housestaff meetings led by Chief Residents. 
Sample Curriculum                                            
|                                                | PL 1                          | PL 2/3                     |
| --- | --- | --- |
| Inpatient Wards | 4 months | 5 months |
| Outpatient Clinic (SAC) | 3 months* | 2 months |
| ER | 1 month | 1 month |
| Newborn | 1 month*** |   |
| OK Kids/Advocacy | 1 month*** |   |
| Behavior | 1 month |   |
| Elective/Selective | 1 month*** | 3 months |
| NICU |   | 2 months |
| PICU |   | 2 months |
| Flex months |   | 2 months** |
| Subspecialty consult |   | 6 months*** |
| Adolescent |   | 1 month |
| Vacation | 3 weeks | 8 weeks |
*Two months of outpatient clinic will consist of two weeks of ward night float each month (averages to about one month of ward night float during intern year)
** The 2 months of flex can be used as additional outpatient exposure or inpatient or 50/50.
*** An average of 5 nights of NICU night float within the months indicated (three months during intern year and three months during PL2/PL3 years)