Who We Are
Safe Kids Worldwide is a global organization dedicated to preventing injuries in children, the number one killer of kids in the United States. Around the world, a child dies from an unintentional injury every 30 seconds. And millions of children are injured in ways that can affect them for a lifetime.
When a child dies or is seriously injured, the lives of families and entire communities are changed forever. But these tragedies don't have to happen. The important thing to remember about preventable injuries is that they are preventable. They often occur in predictable ways and can be completely avoided with the right education, awareness and planning.
Our History
Safe Kids Inland Empire in collaboration with Loma Linda University Children's Hospital works with an extensive network community coalitions in San Bernardino and Riverside County to reduce injuries from motor vehicles, sports, drownings, falls, burns, poisonings and more. Safe Kids Inland Empire is one of over 600 state and local coalitions and chapters in the United States that bring together health and safety experts, educators, corporations, foundations, governments, and volunteers to educate and protect families.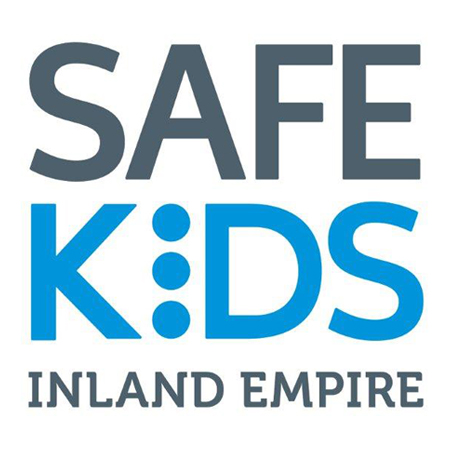 Since 1990, our hospital has been proud to serve as the lead organization for Safe Kids Inland Empire. Loma Linda University Children's Hospital is a level one trauma center and has been since 1981. Since Safe Kids Inland Empire was launched years ago, we have been proud to host the coalition and support its program in an effort to help the kids of our community and region stay safe.
Joining Safe Kids
Safe Kids Inland Empire is always eager to accept new members in our Coalition. If an individual, business, agency, or service group has an interest in injury prevention and childhood safety, Safe Kids would love to have you as a Coalition member. Safe Kids Inland Empire meets as a full Coalition once a month for most months during the year (except November and December). Meetings are held routinely on the fourth Wednesday of every month from 10:00 a.m. to 11:30 a.m.
Please contact Michelle Parker, the Safe Kids coordinator, for details at 909-558-8118 or mparker@llu.edu. If you or your organization/ business is interested in serving as a volunteer at any of our coalition events, please contact the coalition coordinator for more details on how your help can be used. We are always in need of volunteers.