We welcome patients from primary care physicians, pediatricians, endocrinologists and other providers. Our referral portal keeps you up to date on your patient's progress. Meanwhile, our comprehensive team will take care of your patient's needs from the first appointment and throughout their journey.
How to Refer a Patient
Please fill out our New Patient Referral Form and fax it to 909-835-1855. 
Patient Records Needed 
The following records are required for us to see your patient as quickly as possible:
Medical records from referring physician
Medical records from previous endocrinologist
Diabetes diagnostic labs 

C-peptide and glucose levels
Islet autoantibodies
Other autoimmunity screening at the time of diagnosis

Recent A1C results (within 3 months of referral)
Please call the Pediatric Diabetes Center at 909-558-5138 for questions on diabetes referral and the specialty patient care services we provide.  
Physician Resources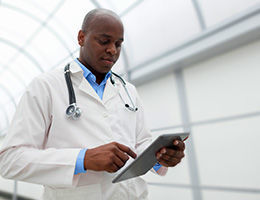 The CareLink portal streamlines your referrals and provides secure access to patient information when you need it.
Visit CareLink