Stress Fractures in Young Athletes
Competitive sports can give some young athletes an edge over their peers. When fun, teamwork, and good sportsmanship are the top goals, sports can improve young kids' physical and emotional health, self-esteem, and even their relationship skills. Unfortunately, young athletes must also compensate for still-growing bones, tendons, and muscles. Sometimes sports injuries happen.
The most common type of sports injury is an overuse injury, such as a stress fracture. Overuse injuries are becoming more common in young athletes. Playing sports year-round without time off doesn't give young bodies enough time to rest and recover.
How stress fractures happen
Stress fractures happen when muscles are too tired to take on the impact of exercise, and the bones absorb the added stress. When those bones become too strained, they develop a tiny break known as a stress fracture.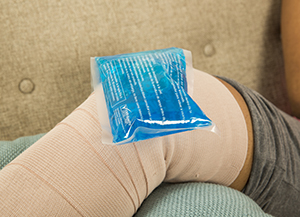 Most stress fractures affect the bones in the lower leg. Stress fractures are also common in the feet.
These are the most common causes of stress fractures:
Increasing the frequency or intensity of exercise too quickly

Suddenly changing the workout surface

Getting sudden and significantly more playing time

Using or wearing gear that doesn't offer enough support, such as shoes that are worn out

Insufficient periods of rest between practice or events
Stress fractures can happen during any number of sports, but they tend to be most frequent in young athletes who participate in sports that involve running and jumping, such as basketball, gymnastics, and track and field. These sports involve repetitive movements that strain the muscles and bones. This increases the risk for a stress fracture.
Preventing stress fractures
Parents and coaches can do many things to help reduce the risk for stress fractures in growing bones. Make sure that your young athletes follow these guidelines:
Eat a balanced, nutritious diet rich in calcium and vitamin D for strong, healthy bones.

Participate in conditioning practice for sports.

Do cross-training (alternating types of physical activities).

Stick to sports that are age-appropriate.

Always warm up before practice or games and cool down afterward.

Get a complete physical exam before participating in sports.

Wear athletic shoes (and any other needed gear) that are appropriate for the sport and that offer plenty of protection and cushioning.

See a healthcare provider for any persistent pain or limp.

Drink plenty of fluids and stay hydrated for practices and games.

Don't resume sports or exercise too quickly after a stress fracture or other injury.
Also, make sure that your child's coach is aware of the signs of stress fracture. This may be milder in nature than a more severe sports injury. Pain, particularly pain that gets better when the child is allowed to rest, is the most common symptom of a stress fracture.
Stress fractures typically heal with rest alone, but injured athletes may need to take off from their sport for as long as 6 to 8 weeks to correctly recover. If your child complains of any pain that persists during sports, schedule a visit with your child's healthcare provider.