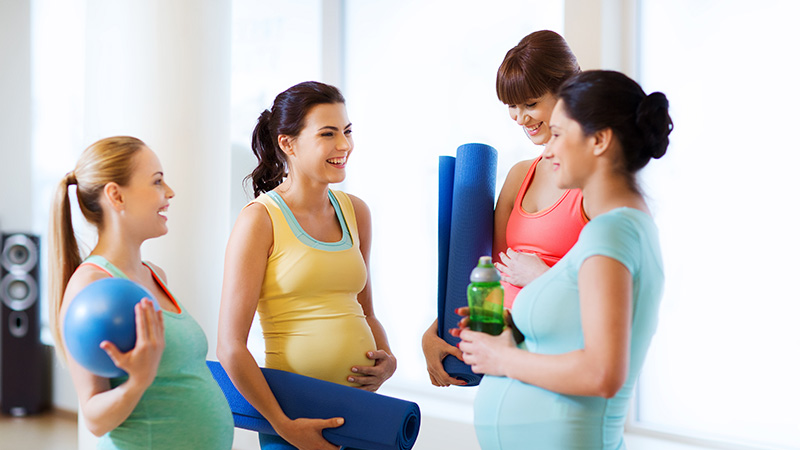 Birth & Beyond Fitness
We offer several fitness class options that can evolve with you through your pregnancy and beyond into parenthood. Exercising throughout your pregnancy has so many benefits for you and your growing baby, such as better sleep, decreased discomfort, improved self-image, reduced stress and preparation for childbirth. Regular exercise after pregnancy can promote weight loss, relieve stress, boost your mood and restore muscle strength. In addition, exercise habits established at the beginning of motherhood can last a lifetime and provide profound benefits for the mother, baby and other family.
Prenatal Water Aerobics
This class is held in the outdoor pool at the Loma Linda University Drayson Center, during the warmer months. It is a low impact aerobics class that includes toning and stretching exercises in shallow water. Class is designed for moms at any stage of pregnancy and in their first year postpartum. No children please.
Tight fitting exercise clothing or a swim suit are required in the Drayson Center pool. The women's locker room is open for moms to use before and after class. Registration for this class is allowed until 2pm the day of class. Please remember to bring your own towel to class. Contact Janisha Howard at JNHoward@llu.edu with any questions
Every Wednesday
May - September
6:30 p.m. - 7:30 p.m.
$8 per class (non-members)
FREE for current Drayson Center members
Both Drayson members and non-members must enroll using the date link below before attending class. Thank you!
Location
Drayson Center
25040 Stewart St.
Loma Linda, CA 92350
909-558-4957
It is recommended to call the Drayson Center before class to check on any last-minute pool closures. Thank you.
2019 Classes
---
Prenatal Yoga
This class is held in the Birth and Beyond Education center. You will learn the physical and psychological benefits of yoga for both pregnancy and postpartum through gentle yoga poses and breath awareness. Do not miss out on this opportunity to nurture yourself and learn tools to better nurture your child. Moms and pre-crawling infants only please. Wear comfortable clothing and be prepared to take off your shoes and socks. Mats and props will be provided for first-timers
There will be no class on Jan 21, Feb 18, May 27, Sept 2, and Nov 27
6:30 p.m. to 7:30 p.m.
$8 per class
Location
Birth & Beyond Education Center
11215 Mountain View Avenue, Suite 179
Loma Linda, CA 92354​​
2019 Classes
Every Monday Jan 8 - Dec 2
Every Wednesdays Jan 2 - Apr 24 and Oct 2 - Dec 18
How to Register
Register for your class by choosing from the date options above. If applicable, be sure to have your credit card ready for payment.
You will receive a confirmation email; please bring it with you to class.
For registration or payment concerns, please call 909-558-3500
Refund requests must be submitted no later than 2 days before the class date.
If your class is cancelled due to low enrollment, we will notify you.
There are no classes on holidays.
Need more information? Call the Birth & Beyond Education and Maternity Tour informational line: 909-558-4000
Unless otherwise noted, classes are held in the Birth and Beyond Education Center:
Birth and Beyond Education Center
11215 Mountain View Ave, Suite 179, Loma Linda, CA 92354