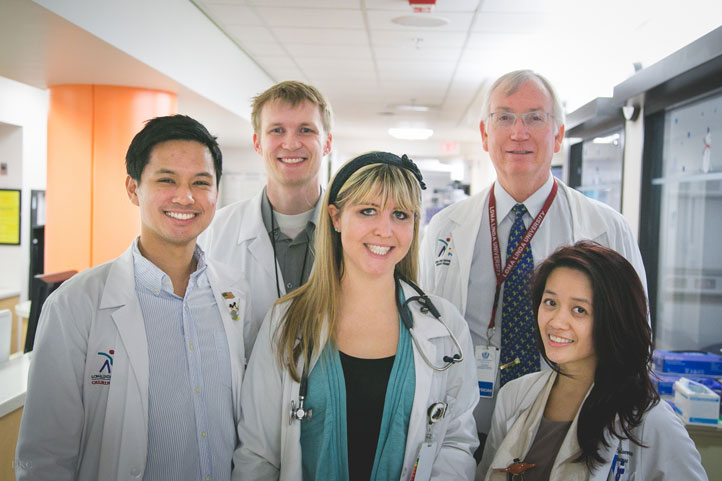 The pediatric residency at Loma Linda University Children's Hospital offers a range of clinical experiences. During rotations, residents care for patients with complex diseases under the guidance of outstanding clinicians and sub-specialists.
Loma Linda University Children's Hospital
LLUCH is one of the largest providers of children's health care in California and is the pediatric referral center for an area covering over one-fourth of the state. This area is one of the fastest growing in North America. In response to the expanding needs of the community, our service has rapidly expanded leading to the opening of the Children's Hospital in 1993.
The five-story structure is adjacent to the Loma Linda University Medical Center (LLUMC). LLUCH contains just under 300 beds dedicated to the care of infants and children. The facilities are state-of-the-art, providing for patient comfort while monitoring all pediatric parameters.
The Children's Hospital includes administration, diagnostic, and operating room areas used only for children. These services include one of the most sophisticated neuroradiology centers in the nation with all major imaging modalities. The world's first hospital-based proton beam accelerator for cancer treatment is housed beneath the Children's Hospital.
The nurses and ancillary staff are well trained, and the staff-to-patient ratio allows excellent patient care. This frees house staff from the routine responsibilities of venipuncture, IV therapy, and other time-consuming duties. Pediatric education, as well as attending and resident physician staffing of all of our training facilities, are unified under the University's pediatric department.
Our attendings, residents, and nursing staff work closely together, forming a supportive and effective medical team. It is this attitude of cooperation and kindness that perhaps is most enjoyable to those of us who work here and to the patients and families we serve.
Other Settings