COVID-19 - APPOINTMENTS AND PROCEDURES
Your care is still our top priority. Appointments are available as video visits, phone calls or in-person visits as needed, with the same safe, world-class care you expect.
If your child has a complex or chronic medical condition — anything from diabetes to disabilities and life-threatening diseases — the experts at Loma Linda University Children's Health are trusted partners. We'll coordinate your child's care and work directly with sub-specialists to provide an excellent home base for all of your child's medical needs.
Why Choose Us For Chronic & Complex Care
You'll be connected to more than 100 pediatricians, pediatric subspecialists and pediatric surgeons across every discipline and specialty — all working together for your child's benefit.
Our pediatricians will coordinate care for your child's complex medical needs, and work with specialists to stay updated on progress.
For children with chronic, multi-symptom illnesses like spina bifida or cystic fibrosis, the Pediatric Specialty Team Centers offer comprehensive diagnosis and treatment options for our patients, along with long-term follow-up care.
You can use MyChart for on-demand access to your child's health care information, anytime, anywhere. View test results, schedule appointments, request prescription refills and more.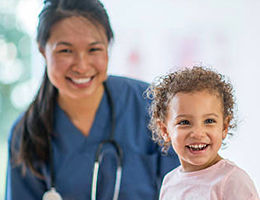 Get expert specialty care for your child's needs with centers and clinics focused on specific conditions.
Learn More
What Our Physicians Are Saying
"We are closely linked with our Loma Linda University Health subspecialists, making the coordination of your child's care completely seamless. We offer direct access to any specialist your child may need."
Caring For Your Child is Our Mission
For the team at Loma Linda University Children's Health, caring for your child is more than a job. It's our calling. With a desire to continue the healing ministry of Christ, we're here to enhance your child's life. Through special programs and camps for children with chronic illnesses, such as Camp Conrad Chinnock Diabetes Camp — and more than 1,200 nurses, child life specialists and other health care professionals — we deliver a healthier physical, mental, emotional, and spiritual future to children.
What our patients are saying
"Do not lose hope. Do not let sickness take over your life. Never lose sight of what you want to do."